FCS Science Program Publishes Scientific Research Article
Fall 2021
Published On July 6, 2021
Friends' Central's first ever scientific research article naming a previously unrecognized moth species was released in The Journal of the Lepidopterists' Society on June 8, 2021. Spearheaded and co-authored by Upper School science teacher John Gruber, the paper is the culmination of activities over several years, including a Summer Science Institute for students from West Philadelphia and the lab and field work of several former and current FCS students. It also grew out of the summer Hendrie fund support for field work in New Mexico and Arizona. The work represents the first ever peer-reviewed scientific journal publication to come directly out of the FCS science program.
The initial identifying of the moth species – named Alypiodes flavilinguis Grote – was due, in large part, to chance. John Gruber had been working for a number of years with FCS students, collecting samples and studying the DNA of groups of North American emerald moths, his specialty area. In July 2017, John made a field trip to New Mexico to collect moth specimens. That August, in his science classroom at FCS, he held the first DNA Science Summer Camp, a molecular genetics program, co-sponsored by Main Line Health, for students from West Philadelphia. John was assisted at the institute by FCS alums Julien Gruber '18 and Anjali Gupta '18. The camp included one day at Lankenau Hospital, touring research and clinical labs and attending a medical genetics lecture there.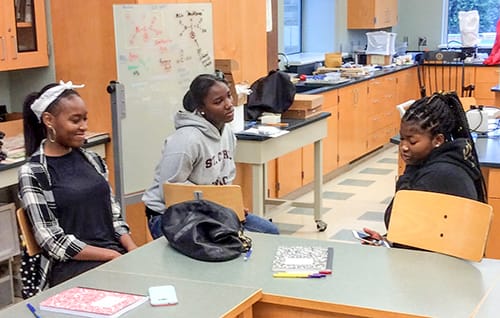 Three young women from West Philadelphia – G'ianni Rowley, Makayla Washington, and Myanah Martin – who participated in the program for one week that August, were instrumental in the moth discovery. The young women were learning about genetics and DNA science, and for this educational exercise, John offered them a box of moth specimens he'd recently brought back from New Mexico. He asked them to select a moth that they would then sequence and then show, via the DNA sequencing, that it belonged to the expected species.
"The students were drawn to a striking black moth that had little white marks on it," John said, "It was an educational exercise expected to yield a result that would confirm what they thought they already knew about the moth species. And that didn't happen."
When these young women did their sequencing, they thought they'd made a mistake because it didn't match what it should have matched," he explained. It was an unexpected result, and John decided to investigate it further while promising to keep in touch with the three students.
"I redid their sequences, and sure enough, it was really different. We were using the same protocols for the groups of emerald moths we studied, and suddenly this thing was thrown in our lap from nowhere, out of an educational exercise."
What they had uncovered was an unrecognized species of moth – not technically "new" because it had been seen, known, collected, and given a name in the 19th century. It was, however, not an existing part of the current insect fauna in the US, and John and team were able to demonstrate with the DNA and a great deal of work that it was a real and distinct species.
"Even more fascinating," John said, "was the fact that this moth had been named in the 1800s in one of the very first expeditions by a Professor Frederick Snow who founded the Biology department at the University of Kansas. He was there in the 1880s, he did the first meaningful insect collections in New Mexico, he found this moth, and he named it (flavilinguis)." In 1900, however, the moth was determined to be just another sample of an already classified moth species, and the species name was dropped. 
"What we're actually doing is reestablishing and reanimating a name that was lost or given up because it had been historically determined not to be a unique species. There were no molecular tools available at the time, so it was classified based on its similar appearance to another moth species," John explained.
This unexpected discovery by G'ianni, Makayla, and Myanah in the summer program then opened the door for FCS students who volunteered in John's lab during the school year to begin to help pursue the rest of the data that they needed to ensure the species was officially classified. It took a number of years, collaboration with other specialists, and the assistance of several FCS students to gather enough clarity and confirm what had been suggested by the work of the three young women in the summer program.
"We needed a larger sample set (of moths)," John explained. "We needed multiple specimens from multiple locations from different parts of New Mexico and different regions of its range. We needed to look at other lines of evidence besides just the DNA. We had to dissect the moths, we had to look at their internal architecture, we had to look at their caterpillar phase. Basically, we needed the full story. If you're going to describe a species, you have to provide a formal description that shows how this is distinct from any other known species."
For John, this also meant that he had to travel back to New Mexico, net in hand, to gather more samples.
Derin Caglar '16 accompanied him on a second field expedition to generate more samples along the Mexican border. "Derin's job was to collect with his net the original known species, because we needed that one too," John said.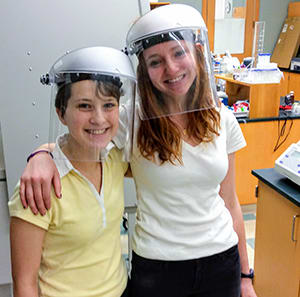 There were a number of FCS students, current and graduated, who were instrumental to this DNA research project – Sara Bergmann '19, Shelby Harris '19, Jade Halpern '20, Lindsey Schweitzer '20, and Day'Mon Wimberly '22. These students did all the additional DNA sequences that were required. "Several of them also helped with the mapping and with reviewing records on iNaturalist (where the general public can contribute to the knowledge base by finding and photographing organisms in the natural world and submitting the photos to the website). They were very involved in preparing data that we would need for the paper," John explained. The students all volunteered their after-school hours to be a part of John's research team and carry out this biodiversity work in the lab, in a teacher-student lab collaboration far more typical of the college experience than high school.
John got in touch with the University of Kansas to share the findings, and they were excited because they have in their collection some of Professor Snow's original material. One of the people John collaborated with on the paper, Kelly Kindscher, is a professor of botany at the University of Kansas. "He was so thrilled at the idea of Professor Snow's moth from 1883 being reanimated," John said.
In June 2021, the paper, co-authored by John W. Gruber, Tanner A. Matson, and David L. Wagner was published, with recognition given to G'ianni, Makayla, and Myanah for the role they played, as well as to the many FCS students who worked on the project.
With one published paper behind them, John and his students won't be resting on their laurels; the work on emerald moths at FCS is ongoing, with the potential for publishing two further papers on moths. The publishing process itself takes time and relies on the participation of so many, with multiple drafts and plenty of comments and revisions by the reviewers before they can accept the paper for publication. John explained, "Getting everyone to do all their parts and pieces is a huge effort, but you need everyone; everyone brings something to the table."
"One of the things I love about this project," said John, "is that it shows the way that there's so much that's unrecognized and unexplored." And a new area that John wants to explore with his students is bees.
"We're really interested in the native bees on the FCS City Avenue campus," he explained. "Just this spring, we started paying attention to some really fascinating relationships between native bee species in the woods in the new nature study area next to the City Avenue track. One of the bee species nests in the ground; it's a mining bee, so it excavates and makes tunnels in the soil. The other one is a parasitic bee that sneaks into the mining bee's nest and lays her eggs on the larval cells of the mining bee. They're both native and tell really complex stories. The same DNA sequencing that we've been doing on the moths works beautifully with the bees as well."
John's enthusiastic about working on a study where the subject is right outside the door. "It's great that these moths on the Mexican border in the South West are so under-studied, but that's a long way from here!"